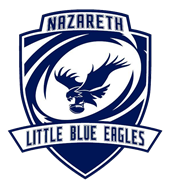 Nazareth Little Blue Eagles
Pee Wee Team



Team Info
Nickname: Little Blue Eagles
Colors: Royal Blue & White
Coach: Nicholas Funari
Assistant Coach: Tim Transue
Cheering Coach: Noelle Kondokoff & Mindy Heimbach
Homepage: http://www.littleblueeagles.org

Home Field: Lower Nazareth Township Park
Address:
Nazareth, PA 18064
Phone:
Directions: Take Route 22 to 191 Exit. Go North on 191 towards Nazareth. Park is on the right hand side.

Organization: Lower Nazareth

President: Nicholas Funari
League Rep: Jason Bianco


Next Game
Saturday, October 21, 10:00 AM
Lower Nazareth Township Park
Nazareth Little Blue Eagles vs. L.C.Y.A.
Team Standing
Division
League
Rank
Wins
Losses
Rank
Wins
Losses
6
0
5
n/a
0
7