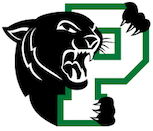 Palmer Township
Flag Team



Team Info
Nickname: Panthers
Colors: Green & White
Coach: Dominic Gazzano
Assistant Coach: Dave Guadignino
Cheering Coach: Jen Swinsburg
Homepage: http://www.palmeraa.org

Home Field: Palmer Athletic Complex
Address: 3050 Green Pond Road
Easton, PA 18045
Phone: 610-248-0551
Directions: Take Route 22 East to the 25th Street Exit. Turn left at the stop light at the end of the off ramp onto 25th Street. Stay in the left hand lane and make a left at the first stop light onto Northampton Street. Go 0.5 miles and turn right at the stop light onto South Greenwood Avenue. Take the 2nd left onto Green Pond Road and the complex will be up on the left hand side.

Organization: Palmer Township Athletic Association

President: Dave Dumpel
League Rep: Jesse Bush


Next Game
No upcoming games scheduled.