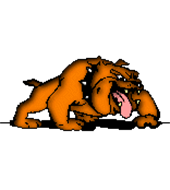 Bethlehem Township Bulldogs
Junior Varsity Team



Team Info
Nickname: Bulldogs
Colors: Black & Yellow
Coach:
Assistant Coach:
Cheering Coach: Lindsay Steiner
Homepage: http://www.btaabulldogs.com

Home Field: North 40 Complex
Address: Meyer Lane
Bethlehem, PA 18020
Phone:
Directions: Take Route 22 or 78 to Route 33 and get off at the William Penn Highway Exit. At the off ramp, go towards Bethlehem and turn left onto Meyer Lane (just past Farmersville Elementary School). The fields will be down the road on the right.

Organization: Bethlehem Township Athletic Association

President: Joe Fortunato
League Rep: Joe Fortunato


Next Game
No upcoming games scheduled.
Team Standing
Division
League
Rank
Wins
Losses
Rank
Wins
Losses
7
0
7
n/a
0
8